Roeslein & Associates, Inc. is excited to be celebrating Women in Construction Week from March 1st-7th, 2020.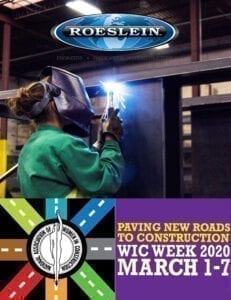 Formed by NAWIC (National Association of Women in Construction), the week will show women as key contributors to the construction industry, bring attention to the growing opportunities available for women in construction, and shine a light on the progression women have had in the industry.
Project Manager at Roeslein & Associates, Kaitlin Friederich, said "Currently, women make up 9.1 percent of the U.S. construction workforce. To me, that means that, in this industry, women have a world of opportunity to break down barriers and overcome industry challenges. Roeslein has continued to give me the tools and guidance needed to be successful in my career. I've never been treated as the woman in the room, but as the team member on the project."
Roeslein prides itself on promoting strength through diversity within its company, employees, partners, and communities. This mindset has brought career and promotional opportunities to the women of the Roeslein team. As part of the celebration, Roeslein will be highlighting the "Women of Roeslein" across all social media channels throughout the week to share with fellow friends and supporters of the industry.
The NAWIC originally began as Women in Construction of Fort Worth, Texas founded in 1953 by women working in the construction industry. Seeing that women were only a small portion of that workforce, the founders organized NAWIC to build a support group. Currently, the NAWIC provides members with opportunities for career advancement, education, networking, training, and more.