Roeslein & Associates is pleased to announce they will be expanding its United Kingdom office. Having been in the area for nearing 10 years, the company saw an opportunity to boost its presence and build its U.K. team in order to serve local clients better. Roeslein will relocate its offices to Northampton, just 96 kilometers East of Birmingham.

Within this transition for Roeslein, Andrew Backhouse has been named the Director of Operations – Europe. Andrew has over 27 years of experience as an Engineer and Senior Operational Leader within the Beverage Can Manufacturing industry, having most recently worked as the Executive Operations Director for Rexam Beverage Can Africa, Middle East, and Asia.
"It gives me great pleasure in becoming a member of the Roeslein team and having the responsibility associated with the strategic expansion of the operations into Europe," said Backhouse. "My career in the manufacturing industry began from qualifying as a mechanical production engineer in the mid-1980's. Moving into the beverage can business in 1989, I was privileged with being part of a team opening a Greenfield site in the UK with through the wall supply to Coca-Cola. The drive and the enthusiasm in the business grabbed my attention early on, not wanting to rest easy and with the support of my family, I set my sights on what could be achieved in what was, and still is, a fast moving and rewarding industry," Backhouse continued.
"I truly could not ask for someone better to lead this endeavor. Andrew Backhouse has the experience we need to be able to support this expansion. With a successful track record of running can manufacturing plants, as well as developing new markets, I couldn't see anyone else taking on this role," said Dave May, President of Roeslein & Associates. "As a company, we are thrilled to be expanding our European office to serve our customers better."
This expansion will allow Roeslein & Associates to build on the solid foundation they have established to further serve its clients in Europe and surrounding areas. They will focus its efforts on consulting, engineering, project management, installation services, and start-up and commissioning. Within the consulting aspect, Roeslein will be able to support key clients with Lean construction, process troubleshooting and efficiency diagnostics for established manufacturing plants.
Andrew Backhouse said, "It is my belief with almost 30 years of experience in the beverage can industry, delivering value to clients has always been built on a foundation of safety, quality, efficiency, team performance and the right culture. Living and working in the Middle East and China provided further insight and a higher level of appreciation of the diverse nature of business the world has to offer and the experience to be a part of Roeslein's global focus. Bringing the team together in opening the new European office and setting a strategic platform for the future with our clients is very exciting for all involved."
Roeslein & Associates will be relocating to its new 3228 sq. ft office space in Northampton, United Kingdom in the spring of 2017. The office will be located on the top floor, left-hand side.
Roeslein & Associates was founded in 1990, specializing in engineering, modular fabrication, and construction services.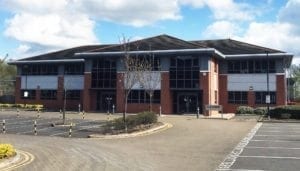 The company has product offerings in the canmaking industry, the container manufacturing industry and the process and energy sectors with annual revenues over $200 million. Its 400+ employees are spread throughout offices in St. Louis, MO (HQ), Red Bud, IL, Denver, CO, Birmingham, UK and Shanghai, China. To find out more, please visit https://www.roeslein.com.