Roeslein & Associates, Inc. is proud to announce that they have been named one of the Best Places to Work (BPTW) in St. Louis by the Saint Louis Business Journal.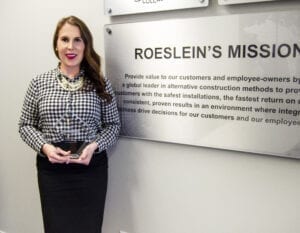 Roeslein was part of the 75 companies named as the stand out finalists in the Best Places to Work Awards for 2020. This accomplishment is achieved by surveys completed by employees about their experiences within the organization. To be nominated, companies are evaluated on communication, management structure, benefits, teamwork and several other factors that have an impact on overall employee satisfaction.
This year, the St. Louis Business Journal took into consideration not only the workplace but the workspace. Knowing that many individuals spend more time at work than at home, the nominees needed to provide their employees with an enjoyable space to work in.
In addition to being a BPTW Finalist, Roeslein & Associates' Director of Human Resources, Sarah Davidson, was presented the Outstanding Human Resources Award by the St. Louis Business Journal. This award honors top-performing human resources executives in the St. Louis area.
"I am honored to receive the HR award, but without the encouragement of Roeslein's Board of Directors, my HR Department's support, and our Roeslein employee-owners, the programs we have implemented and progress we have made would not have been able to happen." said Davidson.